Give Collaboration a New Plane of Mobility
20.07.2021
It is not a shocker that the business world has been altered post-COVID-19. As offices begin to open for in-person work, some employees who began their company journey remotely will continue to be virtual. Technology has closed the physical gap of distance as many companies were pressured to adapt under the new circumstances of the pandemic. Despite many negative impacts of COVID-19 on businesses, the growing popularity of virtual collaborative tools has the potential to be a great positive. 
These tools can boost the quality of internal business communication and collaboration to a level never seen before. Regardless of whether your company has remote workers or not, the implementation of collaborative platforms is necessary to keep your business at the forefront of technological trends. Here is an idea of the tools to add to your company's resources of collaboration.
Virtual Platforms Enhance the Communication Experience
A prominent feature on new collaboration platforms is video meetings. This feature combines a high-quality voice experience with a face-to-face video call to deliver an in-person experience without the hassle of travel. Part of video meetings is call recording, a handy feature that records the audio and picture of the meeting and saves it as a file. Sharing the file with team members keeps those who missed a meeting in the loop about all decisions and conversations. It also allows team members to review a past meeting to take notes or refresh themselves on what was covered.
Along with the option of virtual meetings, participants have access to chat messaging, allowing them to have access to communication even while preoccupied in a call. Collaborative platforms, such as Microsoft Teams, have spiced up the chat capabilities. Along with traditional SMS, users can send multimedia messages. Despite the helpful ability to send file attachments, team members can also send GIFs, emojis, and reactions to others' messages. This allows for more personal interaction in a communication mode that is traditionally impersonal, engaging collaborators by allowing them to enjoy working on the platform. Teams shows the real-time presence of each coworker, illustrated by a different color dot next to their profile name. The platform automatically sets the presence status based on current activity. However, the status can be manually set too. This feature lets coworkers know if someone is free to contact or if they are unable to be reached for the moment.
Increasing Phone Capabilities
Real-time presence is invisible on traditional phones, leading to missed calls. The app, Max UC, combines real-time presence with phones to ensure availability is communicated. Along with calling, users can send text messages to numbers connected to office phones. Someone can text an office number and the receiving end will get the message through the connected MaX UC app on either their desktop or mobile. Employees can still reap the benefits that SMS supply without having to expose their personal cell phone number. It keeps communication streamlined directly to their office phone instead of entangling several numbers.
CommPortal, which can run on a PC, provides a dashboard that displays call and message settings. The portal links to any desk phone device. Clicking on the top messages and calls will display any missed or recent calls along with voicemails.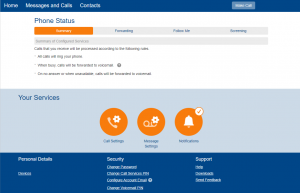 After clicking on "Devices," the settings for any connected phone device are displayed. Here, keys on the device can be programmed to initiate a variety of actions. Certain line keys can be set to call a specific contact while soft keys can bring up directories and call history. These features can transform your desk device into your personal call center, personalizing your ability to manage your business communication.
Increased Mobility of Phones Creates New Possibilities
Employee mobility encompasses two things: collaborating from anywhere and collaborating from any device. This means that employees should be able to collaborate in real-time wherever there is an internet connection and from whatever device they might have. Employees can send a quick message to their team from their mobile instead of having to waste effort moving from device to device. This makes business collaboration more efficient and easier than ever before.
The MaX UC mobile app encompasses those two components of mobility. The app can do what a physical phone can accomplish, such as transferring or holding a call. The app can act as a personal call center while away from the desk. Those on the move for their business, such as those in sales, could greatly benefit from MaX UC. Being away on trips can make it difficult to manage their desk phone. With the MaX UC mobile app, they will not have to worry about missing important calls and messages. They can attend business calls and be kept in the loop about important information.
The Security Issue
Despite the many pros of moving collaboration virtual, there are emerging threats that must be addressed to ensure the security of companies. Security breaches can result in the loss of sensitive data or the sharing of data to unauthorized users. This can happen for two reasons:  
Accidental or deliberate forwarding of sensitive information outside the organization.

External members can easily join a company's channel and are free to access a plethora of information
Ease of collaboration and information sharing shows to be a handicap in this instance. Phone systems can be vulnerable to hackers too, especially now since internet-based phones are gaining popularity. Some of the techniques hackers use to inflict damage include eavesdropping for information. caller ID impersonation, call fraud, and spam. Luckily, recent IT Security trends show that companies are aiming to be less reactive and more proactive when protecting against breaches. This could either be companies scanning for malware or implementing stronger barriers when it comes to communication over the internet.
Collaborate With a Partner You Can Trust
If your company is interested in raising its collaboration capabilities, FirstComm has the services for you. Our MaX UC offering allows for mobility with a service you can trust.